Gourmet Whey Protein Isolate
You want a high-quality whey protein isolate that will deliver exactly what you need from a protein supplement: a high standard of nutritional quality and great tasting. You want the best to taste the best. Pure and simple. That's why MUTANT is proud to deliver MUTANT ISO SURGE, our best tasting, purest whey protein isolate.
With ISO SURGE You get a premium whey protein isolate (WPI) that delivers 25 grams of protein, and less than 2 grams of sugar or carbohydrates across more than a dozen gourmet flavors that will blow your taste buds away!! WPIs are the highest standard in protein supplementation, with a faster absorption rate, WPIs deliver a better recovery rate with optimal macronutrient balance in mind.
Taste Matters
Smart protein choices don't mean compromising on taste. For our protein, we decided to create our own custom, gourmet flavors, utilizing flavor technology from the world's leading ice cream brands. We weren't messing around in our quest for taste!! We have assembled here a truly amazing array of unbelievable flavors that will have you seriously addicted.
We've set the bar very high with MUTANT ISO SURGE. Premium quality ingredients, mixed with the custom gourmet flavors we've created. You want the best to taste the best...You got it. MUTANT NATION wouldn't accept anything less.
25 g PROTEIN
5.5 g BCAAs
(NATURALLY OCCURRING)
100% GOURMET
* These statements have not been evaluated by the Food and Drug Administration. This product is not intended to diagnose, treat, cure, or prevent any disease.
TYPICAL AMINO ACIDS PER SERVING
| | |
| --- | --- |
|  LEUCINE*† (BCAA) | 2.7 G |
| ISOLEUCINE*† (BCAA) | 1.5 G |
| VALINE*† (BCAA) | 1.3 G |
| HISTIDINE* | 0.4 G |
| LYSINE* | 2.6 G |
| METHIONINE* | 0.5 G |
| PHENYLALANINE* | 0.7 G |
| THREONINE* | 1.6 G |
| TRYPTOPHAN* | 0.4 G |
| ALANINE | 1.3 G |
| ARGININE | 0.6 G  |
| ASPARTIC ACID | 2.6 G  |
| CYSTINE | 0.6 G  |
| GLUTAMINE + GLUTAMIC ACID | 4.6 G  |
| GLYCINE | 0.4 G |
| PROLINE | 1.5 G |
| SERINE | 1.0 G |
| TYROSINE | 0.7 G |
*Essential amino acids †BCAAs (Branch Chain Amino Acids)
The tryptophan in this product is naturally occurring in whey protein. No other tryptophan is added. Values are approximate and are subject to natural variation
---
Customer Reviews
Write a Review
Ask a Question
23/07/2021
ed h.

United States
Service
Have purchased in the past. But with this order they sent a 1.2 instead on the 5 lbs I make contact and it was rectified within minutes Mutant is awesome that's why I've been with them for over 8 years
18/07/2021
Timothy T.

United States
Mint Chocolate Iso Surge
It taste so good it'll make you wanna smack your mama lol Mutant ISO surge is a Power packed fast absorbing protein with a taste that is unmatched with any brand I have come in contact with… With a wide variety of flavors, Mutant Knocks the Protein Game out of the park with This One!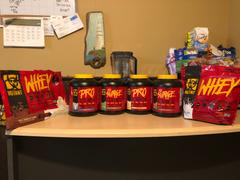 08/06/2021
Justen M.

United States
Perfect!
The best protein in the game. It tastes great. Mixes great. Is just overall amazing.
03/06/2021
Daniel G.

United States
ISO Surge
I've been using Mutant Iso Surge for years. The chocolate fuge brownie tastes amazing. This product is extremely consistent and provides great results.
Wait....getting my favorite flavor for 3 months?!?!
I was disappointed when my favorite flavor of vanilla and also the smoothest flavor of it wasn't on the shelf anymore. Once I tried this version of Vanilla, I was sold and absolutely love that I can get a 3 months supply with a discount code! Soooo happy and the fact that this product is micronized so it blends easily so great for an on the go person. Thank you so much :-)
---